Dear Buckingham Friends School Community Members,
I am excited to share that, after careful review and thoughtful discernment, the Board of Trustees reached unity at the March 2019 meeting about the vision and goals for Buckingham Friends School.  Our vision: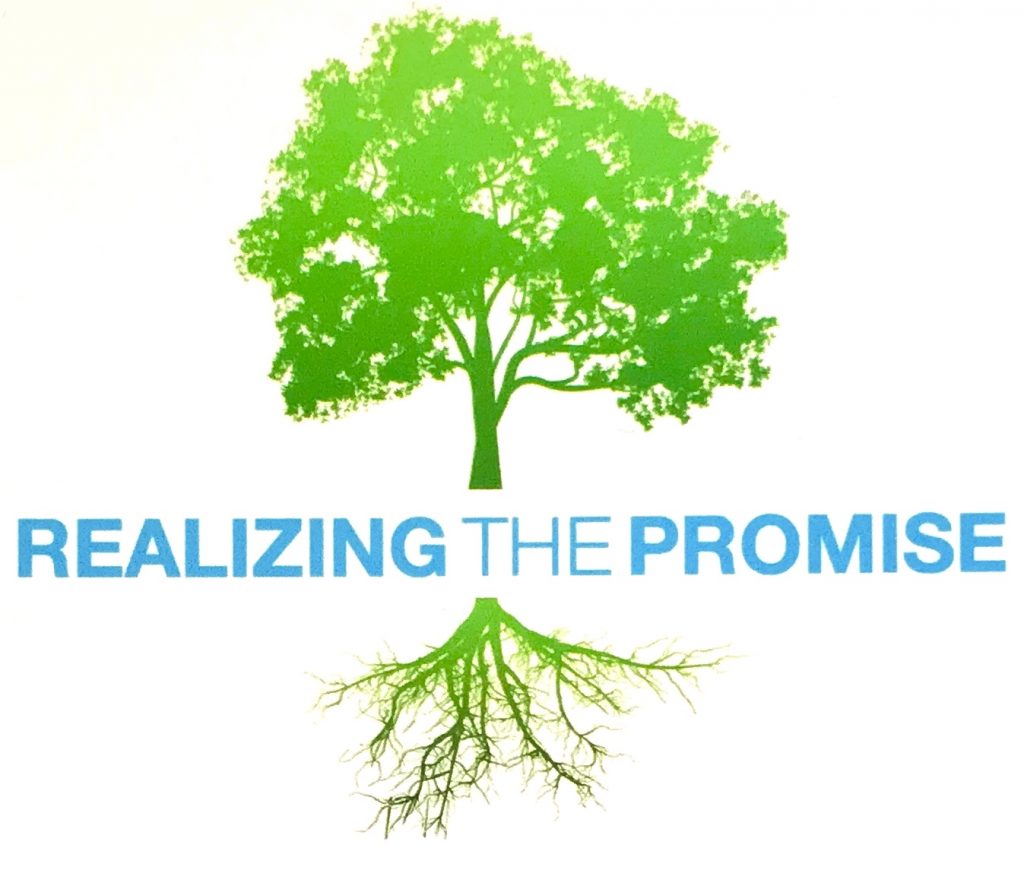 In 2023, Buckingham Friends School is the regional leader in preserving the spirit of youth while preparing diverse global citizens to engage with confidence and thrive in a changing world.
In keeping with the vision:
Goal 1 Community – By 2023, BFS will have expanded and enhanced the quality of our community.
Goal 2 Student Achievement – By 2023, BFS will have adapted and innovated to optimize student achievement.
Goal 3 Enrollment – By 2023, BFS will have achieved full enrollment.
Goal 4 Resources – By 2023, BFS will have stewarded all its resources – financial, campus, and talent – for a sustainable future.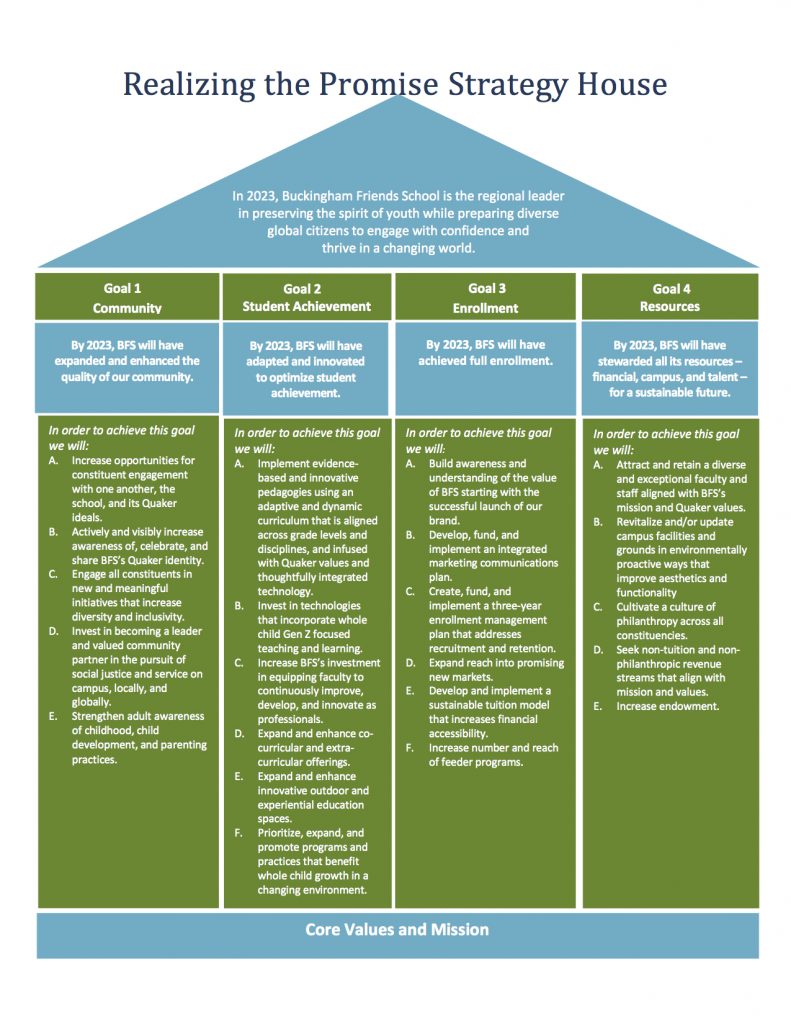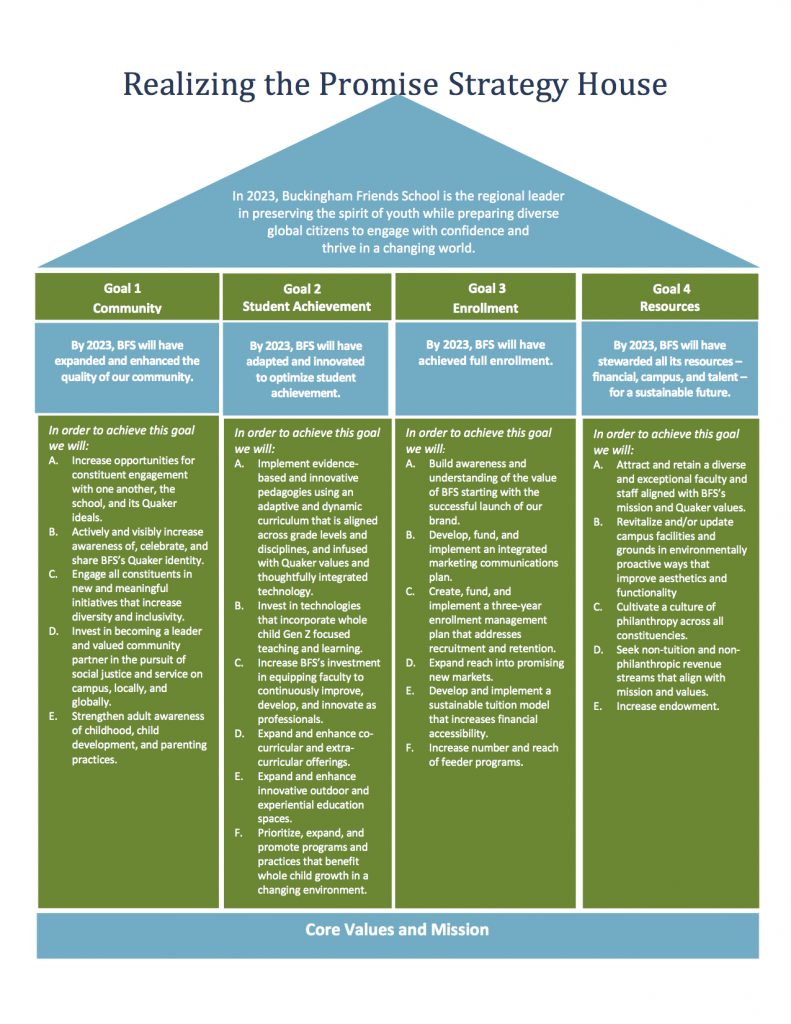 I also write to provide an update about our strategic planning process and to ask that you be on the lookout for an invitation to participate at a community initiative brainstorming forum. Throughout our process thus far, the strength of the BFS community has been evidenced in numerous and immeasurable ways – a reflection of our mission and the core values that we stand for. Everyone's individual and collective passion for the school has been demonstrated, and we are grateful for the quality and breadth of input and outcomes to date.
On Visioning Day, over 160 BFS community members gathered to shape a vision and provide input regarding our strategic direction. Consultant Christina Drouin then collected all of the documentation from the day, synthesized the data, and produced a report for the Strategic Planning Council. Over the course of two meetings, the Strategic Planning Council processed the data and prepared the final vision statement and goals. The committee also drafted a set of proposed strategies for each goal. These initial strategies, which may change and evolve as strategy needs to stay flexible and nimble and evolving, provide the beginning framework for our work on the plan.
After the Strategic Planning Council reached unity regarding the vision and goals, they were presented to the Board at the March meeting. The work of the Strategic Planning Council is now complete. Gratitude will fall short in trying to thank and acknowledge them for all that they have accomplished as a committee. Each member contributed so much, everyone was stretched and rose to many challenges, and the committee embodied and reflected the attributes of a highly functioning group. It has been my sincere personal and professional honor to work with this dedicated, thoughtful, and talented group over so many months.
Now that the Board has endorsed the Strategic Vision and Goals, and an initial set of strategies has been determined, the faculty, administration and community will work with Christina this spring to address how we will get things done. This is the process through which specific initiatives are developed, by those stakeholders who will work to accomplish them, that will advance the strategies that have been determined to achieve each goal and our vision for BFS. The outcomes from this stage will be an implementation plan with key deliverables and deadlines that will be finalized and shared with the Board this summer.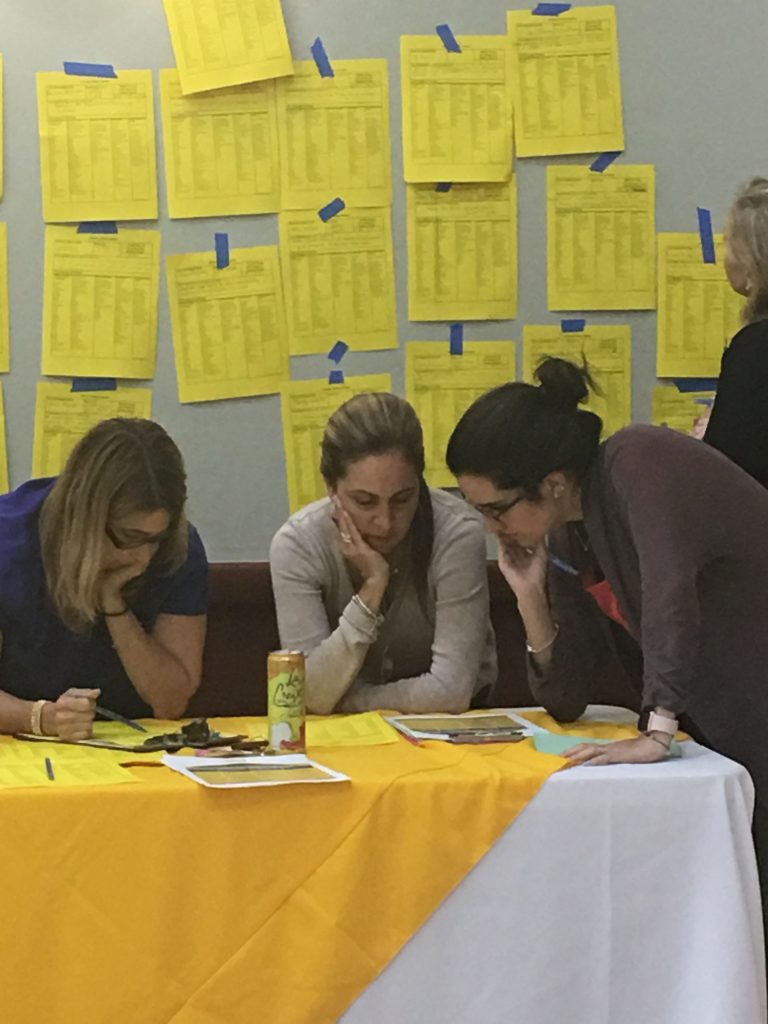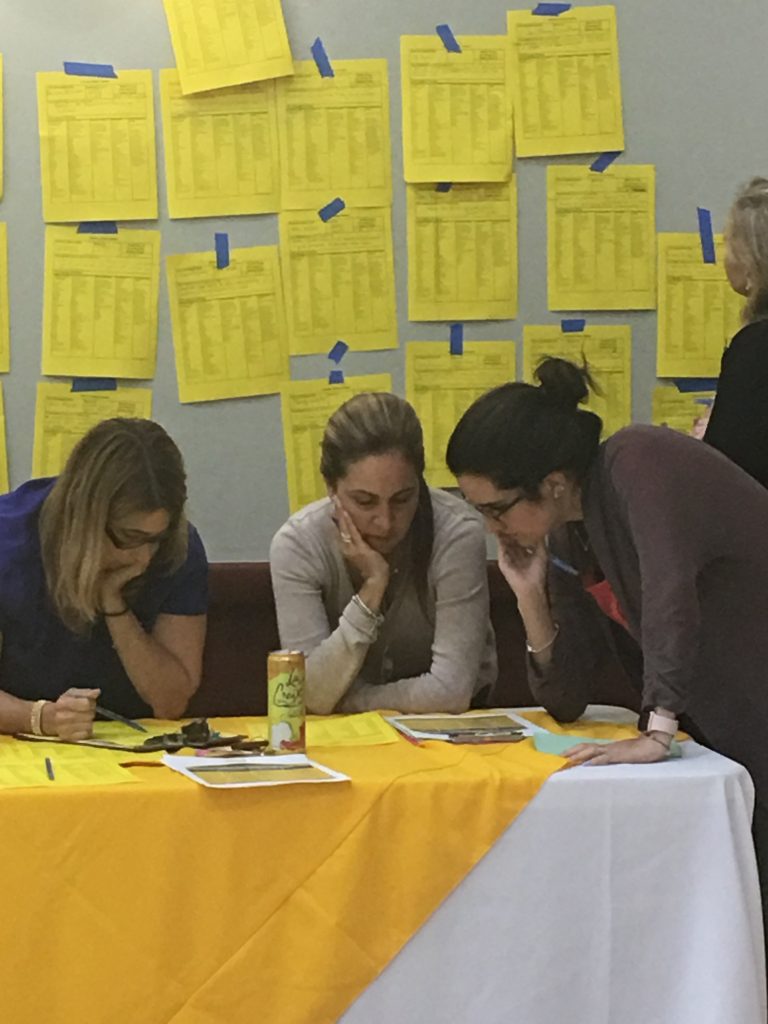 Christina Drouin will facilitate our forum using "Open Space Technology." Open Space Technology is a process tool that convenes large groups of people and engages them in constructive conversation on a focused topic in a highly participative manner. OST is based on the concept of a community of collaboration and a village marketplace of ideas. Participants continually move between community and the marketplace of issues and topics. This introduces a constant mixing and cross-pollinating of group input, producing systemic and sustainable results. Each person is heard and takes responsibility for contributing. The collective knowledge of the entire organization is integrated and brought to bear on immediate solutions as well as long-term capabilities.
Please look for the invite and plan to be with us at the forum.  Your participation is essential to our process and future success.
Paul